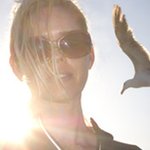 Marcia Copeland
I am a San Francisco textile designer, pattern designer, graphic designer and illustrator with a love for all things retro, modern, hip, fun, funky, cute and colorful.
My textile collection has sold at various boutiques, galleries, museums and markets across the nation, as well as in design shows, online and in magazines. You can check out my etsy shop here: etsy.me/1zPv7yO
Besides designing textiles, I also license my artwork to various companies in the home and gift, stationery, crafting and tech industries. Here are just a few places you can find my designs:
You can check out my fabric and quilt label designs here: http://www.modernyardage.com/shop/category/shop-by-designer/marcia-copeland/
Looking for some fun graphics or templates to enhance your photos before uploading to social media? Then check out my collection of over 400 graphics by downloading photofy - a smart phone app - and search Copeland Creative.
Hosting a party and need a fun and festive online invite to help set the tone? Then feel free to check out my collection here: http://www.pingg.com/gallery/designer/marcia-copeland http://www.zazzle.com/marciaac
Other clients include Evite, Smilebox, InkGarden, Design Design, Keka Case, Snapfish, Paper Culture, Paper Style, Partyvite, and more.
To stay in touch, feel free to follow me here: http://on.fb.me/25564sp https://www.instagram.com/swizzlestixy/
I hope you enjoy my designs as much as I did creating them!
Cheers! Marcia
Read more
Marcia Copeland's Store
Filter