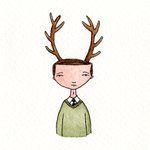 Marc Johns
Marc Johns creates whimsical drawings filled with dry wit and humour. Whether it's a man with branches growing out of his head that need pruning, or a pipe that's trying to quit smoking, his characters are simply, sparsely drawn, yet speak volumes with just a few strokes of the pen. He's been drawing since he was tiny. He's not tiny anymore, but he's not exactly big either. Marc is not sure why he's talking about himself in the third person... WEBSITE + BLOG: http://www.marcjohns.com TWITTER: http://www.twitter.com/marcjohns INSTAGRAM: http://instagram.com/marcjohnsart FACEBOOK: http://www.facebook.com/marcjohnsart Marc Johns joined Society6 on June 30, 2010
More
Marc Johns creates whimsical drawings filled with dry wit and humour. Whether it's a man with branches growing out of his head that need pruning, or a pipe that's trying to quit smoking, his characters are simply, sparsely drawn, yet speak volumes with just a few strokes of the pen. He's been drawing since he was tiny. He's not tiny anymore, but he's not exactly big either. Marc is not sure why he's talking about himself in the third person...
WEBSITE + BLOG: http://www.marcjohns.com
TWITTER: http://www.twitter.com/marcjohns
INSTAGRAM: http://instagram.com/marcjohnsart
FACEBOOK: http://www.facebook.com/marcjohnsart
Marc Johns joined Society6 on June 30, 2010.
Seek Out The Joy_Tank Top Phone Skins by Marc Johns
51 results
Filter