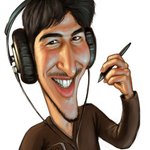 MarcusSakoda
I am a digital caricature artist. I paint caricatures because it makes me happy. I have been drawing caricatures since 2010. I have won many awards at the annual ISCA competition for my caricature artworks. I have exhibited my caricature artworks in many asian countries, such as Korea, China, Hong Kong, and Vietnam. My artwork was also featured in the Society of Illustrators gallery in New York. You can see my portfolio/gallery on my website marcus sakoda . com MarcusSakoda joined Society6 on December 13, 2015
More
I am a digital caricature artist. I paint caricatures because it makes me happy.
I have been drawing caricatures since 2010. I have won many awards at the annual ISCA competition for my caricature artworks. I have exhibited my caricature artworks in many asian countries, such as Korea, China, Hong Kong, and Vietnam. My artwork was also featured in the Society of Illustrators gallery in New York.
You can see my portfolio/gallery on my website marcus sakoda . com
MarcusSakoda joined Society6 on December 13, 2015.
MarcusSakoda's Store
28 results
Filter