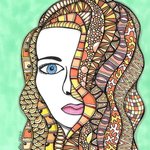 Marfanical
Hello, and welcome to the Marfanical Society 6 page! I am a self-taught doodler since 2013, based in Edinburgh, Scotland. I love to create colourful zendoodles and ZIAs (Zentangle-Inspired-Art). All of the images are hand-drawn by me (no digital artwork). I use a variety of pens, and almost always draw directly with pen (I don't have patience for pencil outlines!) My favourite pens are Pigma Microns and Unipin Fineliners, Sharpie markers, letraset promarkers and all the Sakura Gelly Rolls pens. Doodling makes me happy - and I hope I can share a little bit of that joy with you all via Society 6! See more of my doodles on my instagram page - www.instagram.com/marfanical Marfanical joined Society6 on June 26, 2015
More
Hello, and welcome to the Marfanical Society 6 page!
I am a self-taught doodler since 2013, based in Edinburgh, Scotland. I love to create colourful zendoodles and ZIAs (Zentangle-Inspired-Art). All of the images are hand-drawn by me (no digital artwork). I use a variety of pens, and almost always draw directly with pen (I don't have patience for pencil outlines!)
My favourite pens are Pigma Microns and Unipin Fineliners, Sharpie markers, letraset promarkers and all the Sakura Gelly Rolls pens.
Doodling makes me happy - and I hope I can share a little bit of that joy with you all via Society 6!
See more of my doodles on my instagram page - www.instagram.com/marfanical
Marfanical joined Society6 on June 26, 2015.