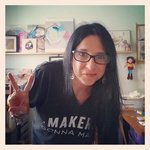 maria alekssev
My work consists of abstract visuals of my "sickly" internal forms and systems, motivated by my personal experience with an ongoing digestive illness. The concept is based on thoughts of seeing through my skin while my body is confronted by an illness, viewing the manipulation and decay of my organs and inner systems, or a picture of what my mind created from the physical pain.
I am also intrigued by the concept of hybridization; the fusing of biological forms questioning the ideas of crossbreeding, creating the unknown and unfamiliar.
Unlike other printmakers I do not normally work in editions. Most of my original work is one of a kind.
Maria Ruggiano-Alekseev is a fine artist from New York. Maria graduated from Pratt Institute, NYC with a BFA in Fine Arts, specializing in Printmaking. She also holds two AAS degrees from The Fashion Institute of Technology, NYC in Photography and Advertising Design. Maria's artistic background is wide ranging; including photography, graphic design, multiple printmaking processes, and a broad spectrum of fine art mediums and techniques.
Maria most recently taught Camp Picasso this summer at the Art Lab on Staten Island and is also currently teaching printmaking to adults.
www.purplepigeonpress.com
Read more
maria alekssev's Store
Filter