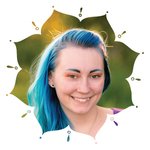 Mariah Liisa
I am a creative rebel. A bit of a spit fire at times. A world-wide roamer.
I believe that everyone has their own personal brand and that honoring your brand, and essentially your soul, is paramount to living a fulfilling life.
By day I am jumping into my freelance work with my cat, Cricket, cuddled on my lap. By night you'll find me cooking up vegan meals, riding my bike, glued to my yoga mat or mixing the perfect shade of blue (or purple, or pink…) hair dye.
Read more
Mariah Liisa's Store
Filter