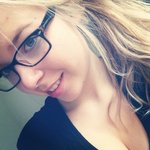 mariahvanleeuwen
Hello there! Thanks for checking out my page:) I am a student who is currently studying Graphic & Package Design in Toronto, Ontario. I enjoy doing photography in the small amount of spare time I can get. I get excited every time I have my camera in my hands, in hopes that I can capture something beautiful and breath taking! I take pictures of almost anything, but I love to take pictures of nature, especially in perspectives that are not normally seen, but are always there. I hope you enjoy my photography, let me know if you want any of my pictures without the watermark, or if you want it moved :) mariahvanleeuwen joined Society6 on November 15, 2013
More
Hello there! Thanks for checking out my page:)
I am a student who is currently studying Graphic & Package Design in Toronto, Ontario. I enjoy doing photography in the small amount of spare time I can get. I get excited every time I have my camera in my hands, in hopes that I can capture something beautiful and breath taking! I take pictures of almost anything, but I love to take pictures of nature, especially in perspectives that are not normally seen, but are always there.
I hope you enjoy my photography, let me know if you want any of my pictures without the watermark, or if you want it moved :)
mariahvanleeuwen joined Society6 on November 15, 2013.