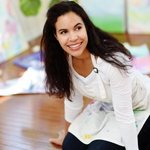 Maria Kamara
Painting for me is a journey to a place of peace and joy. Obviously, I like going there. I am a self taught artist loving the moments I've been given creating with my Creator near the beautiful shores of Lake Michigan. Abstract expressionism gives me the freedom I needed as a recovering classical musician and music opens a spiritual door that heightens my artistic experience when brush hits the canvas. All this while four little beings dance around me learning from home. Adventure abounds. http://www.pinterest.com/maria_kamara/maria-kamara-art/ https://www.facebook.com/profile.php?id=100005658228551 mariakamara.com Maria Kamara joined Society6 on October 3, 2014
More
Painting for me is a journey to a place of peace and joy. Obviously, I like going there. I am a self taught artist loving the moments I've been given creating with my Creator near the beautiful shores of Lake Michigan. Abstract expressionism gives me the freedom I needed as a recovering classical musician and music opens a spiritual door that heightens my artistic experience when brush hits the canvas. All this while four little beings dance around me learning from home. Adventure abounds.
http://www.pinterest.com/maria_kamara/maria-kamara-art/ https://www.facebook.com/profile.php?id=100005658228551 mariakamara.com
Maria Kamara joined Society6 on October 3, 2014.
Maria Kamara's Store
38 results
Filter