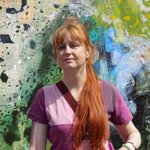 Maria Meester
Abstract painter based in the Netherlands.
In abstract painting I can be free and express myself any way I feel like. I love to work with different media and see what happens, how they react with each other. For me as an artist this is really exciting.
My favorite mediums are oil and acrylic paint, many times very fluid and other times with buttery thick strokes.
Sometimes I like to make a bit more realistic work, like impressions of landscapes and flowers.
Original paintings are available at https://www.etsy.com/shop/MariaMeesterArt/
More merchandise on Redbubble: https://www.redbubble.com/people/mariameesterart
Follow me on social media: @mariameesterart
Website: www.mariameesterart.com
Read more
Maria Meester's Store
55 results
Filter