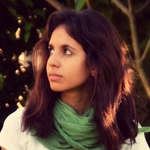 Mariam Soliman
Mariam Soliman is an Egyptian independent artist, currently based in Berlin, where she has a tiny studio. Moments of natural beauty, the sky, the clouds, the sun rays shining giving everything that wonderful glow during golden hour, are phenomena that amaze her and make her soul crave putting this amazement into art. Nature and sunshine is where she gets her primary source of inspiration. Mariam's main tools of art are Photography and Photoshop, pens and ink, and watercolor. She loves creating conceptual artworks, portraying these little beautiful moments that amaze her in this world. Other than that, Mariam loves coffee, dark chocolate, her cats, her books, her music, quietness, moments of solitude and silence, where she can meditate, have calm conversations or read a good book. You can find her on all of these sites, just drop by and say hi! ∆ https://www.facebook.com/mtinystudio ∆ https://www.instagram.com/m_tinystudio ∆ https://www.twitter.com/_violetparadise ∆ https://www.flickr.com/photos/coldwhisper Yep, she surely likes to play with names! Share your products with her on any of these sites :) just use the hashtag #mariamsoliman or #mtinystudio :) So glad you are stopping by! Thanks and lots of love! ♥ © 2017 Mariam Soliman Mariam Soliman joined Society6 on September 12, 2016
More
Mariam Soliman is an Egyptian independent artist, currently based in Berlin, where she has a tiny studio. Moments of natural beauty, the sky, the clouds, the sun rays shining giving everything that wonderful glow during golden hour, are phenomena that amaze her and make her soul crave putting this amazement into art. Nature and sunshine is where she gets her primary source of inspiration.
Mariam's main tools of art are Photography and Photoshop, pens and ink, and watercolor. She loves creating conceptual artworks, portraying these little beautiful moments that amaze her in this world.
Other than that, Mariam loves coffee, dark chocolate, her cats, her books, her music, quietness, moments of solitude and silence, where she can meditate, have calm conversations or read a good book.
You can find her on all of these sites, just drop by and say hi!
∆ https://www.facebook.com/mtinystudio ∆ https://www.instagram.com/m_tinystudio ∆ https://www.twitter.com/_violetparadise ∆ https://www.flickr.com/photos/coldwhisper
Yep, she surely likes to play with names!
Share your products with her on any of these sites :) just use the hashtag #mariamsoliman or #mtinystudio :)
So glad you are stopping by! Thanks and lots of love! ♥
© 2017 Mariam Soliman
Mariam Soliman joined Society6 on September 12, 2016.