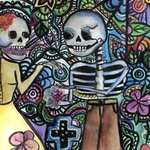 Maria Eugenia Navarro
I am a self taught watercolor artist based in Washington. I work with a variety of other mediums, such as Acrylic, and Oils. I started working primarily with black and white watercolor in high school, but over time found to love the vibrancy of color. I love the freedom that watercolor brings to a piece, as it gives you the ability to work up the intensity, creating varying textures and moods. Instagram: mariaeugeniaart Maria Eugenia Navarro joined Society6 on December 6, 2014
More
I am a self taught watercolor artist based in Washington. I work with a variety of other mediums, such as Acrylic, and Oils. I started working primarily with black and white watercolor in high school, but over time found to love the vibrancy of color. I love the freedom that watercolor brings to a piece, as it gives you the ability to work up the intensity, creating varying textures and moods.
Instagram: mariaeugeniaart
Maria Eugenia Navarro joined Society6 on December 6, 2014.