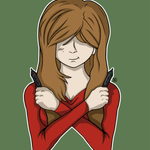 Mari Anrua
My name is Nina. I'm chaotic creative Illustrator & Graphic designer. Web-site: http://www.marianrua.com/ Instagram : http://instagram.com/mari_anrua/ Thank you so much if you buy something with one of my designs! It means a lot to me! Don't hesitate to share a photo with me via Instagram or twitter ;) Just use the tag #marianruaart www.marianrua.com e-mail: work@marianrua.com http://www.redbubble.com/people/marianrua Mari Anrua joined Society6 on August 12, 2013
More
My name is Nina. I'm chaotic creative Illustrator & Graphic designer.
Web-site: http://www.marianrua.com/ Instagram : http://instagram.com/mari_anrua/
Thank you so much if you buy something with one of my designs! It means a lot to me! Don't hesitate to share a photo with me via Instagram or twitter ;) Just use the tag #marianruaart
www.marianrua.com e-mail: work@marianrua.com http://www.redbubble.com/people/marianrua
Mari Anrua joined Society6 on August 12, 2013.