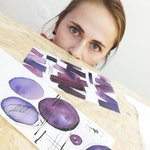 Maria Stys
Hello! I'm a designer interested in a variety of project activities as architecture, fashion, textile design and also artistic creations as drawing or painting.
Feel free to visit my blog where all my projects are being shared up to date http://www.stysprojects.com/
Follow me on Instagram as @stysprojects on Twitter and on Slideshare as @MariaStys for more updates!
I'm so happy to be on Society6 and to have the possibility to share my artworks in here! It's going to be amazing experience!!
Read more