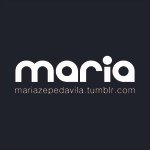 Maria Zepedavila
I am a mexican Integral Designer and I work in my own small label, making graphic design, patterns, ilustration, textiles and more. I have developed a personal style combining my influences, my own inspiration and my mexican background. All of these are reflected in the color, nature and intensity of my art. facebook.com/mariazepedavila mariazepedavila@gmail.com Maria Zepedavila joined Society6 on July 27, 2013
More
I am a mexican Integral Designer and I work in my own small label, making graphic design, patterns, ilustration, textiles and more. I have developed a personal style combining my influences, my own inspiration and my mexican background. All of these are reflected in the color, nature and intensity of my art.
facebook.com/mariazepedavila mariazepedavila@gmail.com
Maria Zepedavila joined Society6 on July 27, 2013.