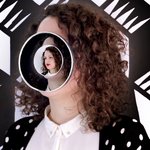 Marina Esmeraldo
Designer, art director and illustrator based in Barcelona, Spain. Her work is informed by her studies in architecture and graphic design, her passion for patterns, bold shapes and color, and her tropical upbringing in the northeast of Brazil. For more of her work, please visit: www.marinaesmeraldo.com www.patternportraits.com Thanks! Marina Esmeraldo joined Society6 on December 27, 2013
More
Designer, art director and illustrator based in Barcelona, Spain. Her work is informed by her studies in architecture and graphic design, her passion for patterns, bold shapes and color, and her tropical upbringing in the northeast of Brazil.
For more of her work, please visit: www.marinaesmeraldo.com www.patternportraits.com
Thanks!
Marina Esmeraldo joined Society6 on December 27, 2013.