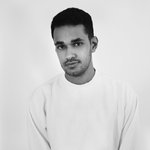 Mário André ART
Mário André is a Brazilian digital artist based in Aracaju, Brazil. Graduate of graphic design in 2010 and photography studies in NYC in 2012, Mário's work includes minimalist graphic design and digital arts inspired by urban scenes. ''Whether working with branding, layout, digital marketing and photography, my greatest pleasure to learn every day, driven by a curiosity of everything around me, and by my day to day on the job experiences'' www.andremario.com Mário André ART joined Society6 on April 13, 2016
More
Mário André is a Brazilian digital artist based in Aracaju, Brazil. Graduate of graphic design in 2010 and photography studies in NYC in 2012, Mário's work includes minimalist graphic design and digital arts inspired by urban scenes.
''Whether working with branding, layout, digital marketing and photography, my greatest pleasure to learn every day, driven by a curiosity of everything around me, and by my day to day on the job experiences''
www.andremario.com
Mário André ART joined Society6 on April 13, 2016.
Mário André ART's Store
11 results
Filter