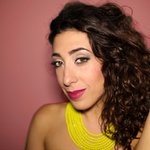 Mariona Lloreta
www.marionalloreta.com Mariona Lloreta is a director and visual artist based in NYC, Barcelona and Lagos. Through visual art, Mariona explores ways to deconstruct a person or idea and put them back together as close to essence as possible through bold visual metaphors. Her artwork demands a conversation between itself and the viewer concerning identity, community, love, self-empowerment, sexuality and freedom. In 2013, Mariona spent several months directing film work in Lagos, Nigeria and became enamored with the local culture and vibrant arts community. These qualities led to the creation of Open Door Nigeria, a venture which seeks to bring about widespread recognition of Nigerian art, and create real and lasting networks between the country's artists and the global arts community. Mariona strives to become not just a visual artist, but a leader in the quest to enact positive change through the arts. Mariona Lloreta joined Society6 on March 1, 2014
More
www.marionalloreta.com
Mariona Lloreta is a director and visual artist based in NYC, Barcelona and Lagos.
Through visual art, Mariona explores ways to deconstruct a person or idea and put them back together as close to essence as possible through bold visual metaphors. Her artwork demands a conversation between itself and the viewer concerning identity, community, love, self-empowerment, sexuality and freedom.
In 2013, Mariona spent several months directing film work in Lagos, Nigeria and became enamored with the local culture and vibrant arts community. These qualities led to the creation of Open Door Nigeria, a venture which seeks to bring about widespread recognition of Nigerian art, and create real and lasting networks between the country's artists and the global arts community.
Mariona strives to become not just a visual artist, but a leader in the quest to enact positive change through the arts.
Mariona Lloreta joined Society6 on March 1, 2014.
Mariona Lloreta's Store
5 results
Filter