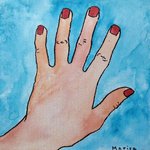 Marisa Gibler
I live in Moscow, Idaho, with my husband, two kids, chocolate lab & a Little Free Library. I enjoy drawing hands, especially, and am drawn to children's book-style images. My high school art teacher dismissed my work as "too much like a coloring book," and it's taken a decade or two to shed that criticism. The vintage children's book pages in my artwork are all rescued from the local recycling center. Please feel free to contact me with custom requests. Marisa Gibler joined Society6 on September 3, 2013
More
I live in Moscow, Idaho, with my husband, two kids, chocolate lab & a Little Free Library. I enjoy drawing hands, especially, and am drawn to children's book-style images. My high school art teacher dismissed my work as "too much like a coloring book," and it's taken a decade or two to shed that criticism. The vintage children's book pages in my artwork are all rescued from the local recycling center.
Please feel free to contact me with custom requests.
Marisa Gibler joined Society6 on September 3, 2013.