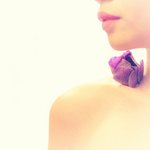 Marisa Johnson :: Art & Photography
In my mind, I am constantly creating and thinking of ways to express myself through art. My medium is watercolor. I enjoy painting almost everything that interests me, but I should say flowers are my favorite. I have great passion for flowers – the beauty and joy of it, I try to capture this in my painting and photography. I love the idea of giving them eternal life by expressing my love for them in paper and paints. Flowers provide me with inspiration, uplift my spirits and give me the satisfaction for finding beauty and connecting to colors. Currently living in Seoul, Korea, with an incredible husband, Jay and 2 sweet, adorable and fabulous kids who accept my daily artistic chaos and messes and love me just the same. Thank you for visiting. I hope you enjoy my art as much as I enjoy creating them. www.marisajohnsonartphotography.com http://www.facebook.com/pages/In-Full-Bloom-Watercolors/108391295858686 Copyright Notice: No portion of Marisa Johnson work may be downloaded, reproduced, published, copied, manipulated, linked or transferred electronically or used in any way without the artist's written permission. Marisa Johnson :: Art & Photography joined Society6 on June 30, 2012
More
In my mind, I am constantly creating and thinking of ways to express myself through art. My medium is watercolor. I enjoy painting almost everything that interests me, but I should say flowers are my favorite. I have great passion for flowers – the beauty and joy of it, I try to capture this in my painting and photography. I love the idea of giving them eternal life by expressing my love for them in paper and paints. Flowers provide me with inspiration, uplift my spirits and give me the satisfaction for finding beauty and connecting to colors.
Currently living in Seoul, Korea, with an incredible husband, Jay and 2 sweet, adorable and fabulous kids who accept my daily artistic chaos and messes and love me just the same.
Thank you for visiting. I hope you enjoy my art as much as I enjoy creating them.
www.marisajohnsonartphotography.com
http://www.facebook.com/pages/In-Full-Bloom-Watercolors/108391295858686
Copyright Notice:
No portion of Marisa Johnson work may be downloaded, reproduced, published, copied, manipulated, linked or transferred electronically or used in any way without the artist's written permission.
Marisa Johnson :: Art & Photography joined Society6 on June 30, 2012.