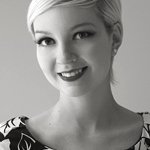 Mariya Olshevska
Hi! I'm a freelance illustrator from Vancouver who likes to hug animals. I have a passion for creating whimsical works that are rich in detail and colour. I love exploring themes surrounding wildlife, mythology and lighthearted humor. And I put birds on things! Feel free to email me at mariya@mariyaolshevska.com if you're interested in purchasing an original of my paintings, or if you have any other questions/requests. :) A few links: Website: www.mariyaolshevska.com Original Art For Sale: https://www.etsy.com/ca/shop/MeticulousMadness Facebook Art Page: https://www.facebook.com/MariyaOlshevskaIllustration Blog: http://mariyaolshevskaexpressions.blogspot.com/ Twitter: https://twitter.com/mariyaolshevska Instagram: http://instagram.com/mariya.olshevska Tumblr: http://mariya-o.tumblr.com/ Mariya Olshevska joined Society6 on May 3, 2012
More
Hi! I'm a freelance illustrator from Vancouver who likes to hug animals. I have a passion for creating whimsical works that are rich in detail and colour. I love exploring themes surrounding wildlife, mythology and lighthearted humor. And I put birds on things!
Feel free to email me at mariya@mariyaolshevska.com if you're interested in purchasing an original of my paintings, or if you have any other questions/requests. :)
A few links: Website: www.mariyaolshevska.com Original Art For Sale: https://www.etsy.com/ca/shop/MeticulousMadness Facebook Art Page: https://www.facebook.com/MariyaOlshevskaIllustration Blog: http://mariyaolshevskaexpressions.blogspot.com/ Twitter: https://twitter.com/mariyaolshevska Instagram: http://instagram.com/mariya.olshevska Tumblr: http://mariya-o.tumblr.com/
Mariya Olshevska joined Society6 on May 3, 2012.
Prints by Mariya Olshevska
95 results
Filter