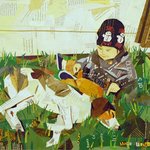 mark fraley
I am an artist who loves dry media (charcoal, colored pencils, brush markers) and collage work. I enjoy drawing people most of all, but that's not a hard and fast rule. Are there hard and fast rules?
Read more
mark fraley's Store
52 results
Filter
Visa, Mastercard, PayPal, American Express, Discover
You are currently on society6.com.