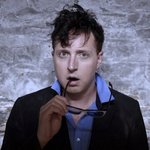 Mark Mallman
There is a line between insanity and genius that indie superhero, Mark Mallman has built a career on. His solid songwriting and wild stage persona have earned him opening spots on stages with artists as diverse from Cat Power to Green Day to Guided by Voices to name a fraction. Mallman's expansive catalog of infinitely catchy and masterfully orchestrated, boot stomping pop songs has rocked the airwaves of MTV, VH1, NPR, and dozens of major motion picture trailers and video games. He's been written about by Rolling Stone, Pitchfork, USA Today, Wired, NME, The Toronto Star, Chicago Sun-Times, the Denver Post and so on. He's a featured contributor to the "Music Theory for Dummies" series alongside Bob Moog, John Cage and Andrew Bird. He is a composer for film and television, most recently Lion's Gate's zombie romp, "Bite Me". He is a pioneer of brainwave EEG/MIDI generated music, as well as the first person in history to webcast a transcontinental non-stop concert. Mark Mallman joined Society6 on September 16, 2014
More
There is a line between insanity and genius that indie superhero, Mark Mallman has built a career on. His solid songwriting and wild stage persona have earned him opening spots on stages with artists as diverse from Cat Power to Green Day to Guided by Voices to name a fraction. Mallman's expansive catalog of infinitely catchy and masterfully orchestrated, boot stomping pop songs has rocked the airwaves of MTV, VH1, NPR, and dozens of major motion picture trailers and video games.
He's been written about by Rolling Stone, Pitchfork, USA Today, Wired, NME, The Toronto Star, Chicago Sun-Times, the Denver Post and so on. He's a featured contributor to the "Music Theory for Dummies" series alongside Bob Moog, John Cage and Andrew Bird. He is a composer for film and television, most recently Lion's Gate's zombie romp, "Bite Me". He is a pioneer of brainwave EEG/MIDI generated music, as well as the first person in history to webcast a transcontinental non-stop concert.
Mark Mallman joined Society6 on September 16, 2014.