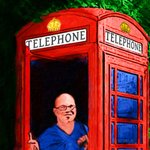 Mark E Tisdale
Sometimes things just have a way of finding their own course. In my college years I was directionless. I spent a decade following my school years doing the cube thing before I found a love for travel and art. For the past five years, since escaping the cube, I've worked on my visual art full time. My artwork, often based on my travels, has been purchased by people literally around the world, for which I'm most grateful! I might not have known where the road would lead, but I love the place I've arrived and appreciate all the patrons who support doing what I love. You can see more of my work and learn more about me here. http://www.beautifulworldart.com Mark E Tisdale joined Society6 on January 10, 2014
More
Sometimes things just have a way of finding their own course. In my college years I was directionless. I spent a decade following my school years doing the cube thing before I found a love for travel and art.
For the past five years, since escaping the cube, I've worked on my visual art full time. My artwork, often based on my travels, has been purchased by people literally around the world, for which I'm most grateful!
I might not have known where the road would lead, but I love the place I've arrived and appreciate all the patrons who support doing what I love.
You can see more of my work and learn more about me here. http://www.beautifulworldart.com
Mark E Tisdale joined Society6 on January 10, 2014.