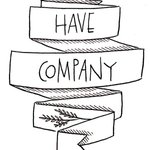 have company
have company is a a general store specializing in local handmade goods, small publications, & working together. we are located at 136 s division ave in the heartside neighborhood of grand rapids, mi we host zine readings, book release events, weekly gatherings, and monthly events. let us know if you'd like to host a workshop or reading in our space! have company joined Society6 on January 16, 2013
More
have company is a a general store specializing in local handmade goods, small publications, & working together.
we are located at 136 s division ave in the heartside neighborhood of grand rapids, mi
we host zine readings, book release events, weekly gatherings, and monthly events. let us know if you'd like to host a workshop or reading in our space!
have company joined Society6 on January 16, 2013.