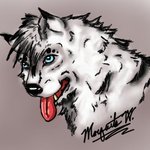 Marquita Williams
A self-teaching and ever learning college creative from Philadelphia who loves animals and anything fantasy related. With every product that you buy, you're helping me with stepping into life and becoming an "actual adult." You are also helping to motivate me to continue my work and become a better artist! If you have any questions, comments, or would like a commission, please contact me by email at: marwilliams150@yahoo.com I hope you enjoy my store! Marquita Williams joined Society6 on June 9, 2014
More
A self-teaching and ever learning college creative from Philadelphia who loves animals and anything fantasy related.
With every product that you buy, you're helping me with stepping into life and becoming an "actual adult." You are also helping to motivate me to continue my work and become a better artist!
If you have any questions, comments, or would like a commission, please contact me by email at: marwilliams150@yahoo.com
I hope you enjoy my store!
Marquita Williams joined Society6 on June 9, 2014.
Marquita Williams's Store
19 results
Filter