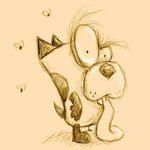 Marshall Sugg
Like most visual artists, Marshall started drawing at an early age. His beginning steps into the art world would come after winning first place in a pre-school coloring contest. He developed a strong passion for pen and ink, watercolor and oil painting. In the early 2000's, he took his cartooning and illustrating talents to the computer, making use of the powerful creative software.
Since then, Marshall went on to receive an Associate of Applied Science degree in Visual Communication Design (Graphic Design/Illustration Specialization). He has also studied fine and graphic art at the Academy of Art College in San Francisco.
His cartoon art fuses bold line with bright vivid color, while utilizing patterns, textures and happy accidents. The subject matter is usually fun and light with a touch of whimsy.
Skilled in Adobe Illustrator, Photoshop, InDesign, Flash and Microsoft PowerPoint.
Read more
Marshall Sugg's Store
Filter