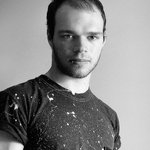 MarsStation
My name is Jake Várley. I'm an Illustrator & Photographer based in the south of England. In both aspects of my work I am heavily influenced by Constructivist, Brutalist and the Art Deco Movements. I have always been interested in drawing and taking pictures of diverse things. Both are very different methods of producing art, but I have always let them influence and inspire my work. The main focus in most of my work is the balance and relationship between the natural and manmade. A balance that can ether contrast or coexist with the surroundings. At the moment I have been playing around a lot with Infrared and Ultraviolet light in photography. I have always been interested in creating things that not everyone can see, now I can do this in photography as well which I'm starting to use a lot. I am using both a 820nm filter, and a converted IR camera that has been calibrated to focus in infrared light. The filter in that camera is 720nm. Websites: www.facebook.com/themarsstation www.mars-station.co.uk MarsStation joined Society6 on July 6, 2014
More
My name is Jake Várley. I'm an Illustrator & Photographer based in the south of England. In both aspects of my work I am heavily influenced by Constructivist, Brutalist and the Art Deco Movements.
I have always been interested in drawing and taking pictures of diverse things. Both are very different methods of producing art, but I have always let them influence and inspire my work.
The main focus in most of my work is the balance and relationship between the natural and manmade. A balance that can ether contrast or coexist with the surroundings.
At the moment I have been playing around a lot with Infrared and Ultraviolet light in photography. I have always been interested in creating things that not everyone can see, now I can do this in photography as well which I'm starting to use a lot. I am using both a 820nm filter, and a converted IR camera that has been calibrated to focus in infrared light. The filter in that camera is 720nm.
Websites:
www.facebook.com/themarsstation
www.mars-station.co.uk
MarsStation joined Society6 on July 6, 2014.