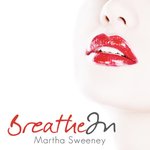 Martha Sweeney
Martha is a first-time author with her debut novel Breathe In of the Just Breathe series. Breathe Out, book #2, of the Just Breathe series is scheduled for release September 15, 2015. Martha Sweeney has been creative since she was little, always drawing, coloring or making crafts. When her adult life kicked in, her creative outlet disappeared until she discover Adobe Creative Suite products. Now, Martha is a self-taught graphic and website designer who had the pleasure of helping her husband, Thomas Sweeney, author of The Harem, with editing and designed all graphic and web materials for the book and its promotions. She lives in sunny California and has recently begun to enjoy reading, unlike in high school or college which has sparked her new creative avenue of writing. website: www.marthasweeney.com Pinterest: pinterest.com/MSweeneyAuthor Google+: +MarthaSweeneyAuthor Instagram: @MarthaSweeneyAuthor Facebook Page: AuthorMarthaSweeney Twitter: @MSweeney_Author Martha Sweeney joined Society6 on August 12, 2015
More
Martha is a first-time author with her debut novel Breathe In of the Just Breathe series. Breathe Out, book #2, of the Just Breathe series is scheduled for release September 15, 2015.
Martha Sweeney has been creative since she was little, always drawing, coloring or making crafts. When her adult life kicked in, her creative outlet disappeared until she discover Adobe Creative Suite products. Now, Martha is a self-taught graphic and website designer who had the pleasure of helping her husband, Thomas Sweeney, author of The Harem, with editing and designed all graphic and web materials for the book and its promotions. She lives in sunny California and has recently begun to enjoy reading, unlike in high school or college which has sparked her new creative avenue of writing.
website: www.marthasweeney.com Pinterest: pinterest.com/MSweeneyAuthor Google+: +MarthaSweeneyAuthor Instagram: @MarthaSweeneyAuthor Facebook Page: AuthorMarthaSweeney Twitter: @MSweeney_Author
Martha Sweeney joined Society6 on August 12, 2015.