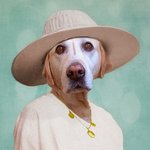 Martine Roch
As an artist I create another reality with antique photographs and photographs of animals that I take myself. All these images are digitally made, hand colored with Photoshop.
But, first of all, I'm an animal lover. Boudi, the blond Labrador you see on my images is my beloved dog for almost 14 years. She's now an old lady...
My goal is to bring a smile on peoples faces. It's simple. My world is rooted in an aesthetic ideal, a nostalgic late nineteenth, early twentieth century
My images are known through the web, and exhibitions in France and in the US.
Last exhibition : Digital Darkroom at the Annenberg Space for Photography (Los Angeles) with Maggie Taylor, Jerry Uelsmann, Joel Grimes, Pierre Béteille, Jean Marie Vives, Jean François Rauzier, Christopher Schneberger, and several other great American artists.
Join me on Facebook : http://www.facebook.com/pages/Martine-Roch/174544398211
Blog : http://martineroch-studio.com/
Read more