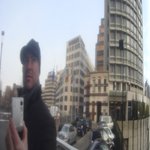 Martin Summers
Mr. Summers founded PLUS-SUM Studio in September 2012, to pursue work that would allow him ways to expand his own vision of what is possible in a collaborative practice. He has 16 years experience in a variety of project types and scales, from small interior renovations to large-scale master planning.  Martin worked for 10 years as a Senior Project Designer at Morphosis Architects. He served as project designer on projects across all scales and took on a leadership role in façade design and construction. In his last project with the office, he led the design of the atrium and exterior facades for the New Museum of Nature and Science in Dallas Texas (completed in January of 2013.) Prior to the Museum of Nature and Science, Martin led the exterior façade team working on the design and execution drawings for the Phare Tower in Paris, France. He also served as the lead project designer on the Cahill Center for Astrophysics at Caltech in Pasadena, California and as the lead project designer for the Caltrans District 7 Headquarters in Downtown Los Angeles; an entire city block across from City Hall where urban design issues drove the solution. Other award winning projects include NYC 2012 Olympic Village design and master planning; Hypo Alpe-Adria Bank, Udine Italy; the Wayne L. Morse Federal Courthouse in Eugene, Oregon; the University of Cincinnati Student Recreation Center; and the Los Angeles County Museum of Art Competition which attempted to re-stitch the existing campus into a coherent whole.  Prior to working at Morphosis, Mr. Summers participated in a diverse range of project from residential and worship spaces to sound stages for clients such as Warner Bros., Sony, and DreamWorks SKG while at HLW. He worked at several award winning offices in Kentucky and before attending graduate school. Mr. Summers received his Masters of Architecture II degree from UCLA, where he was a student of Thom Mayne, the 2005 Pritzker Prize Laureate and the founding principal of Morphosis. While at UCLA, he worked with Mr. Mayne on the publication of LA Now, Volumes 1 and 2 (in which his thesis project "UNIVERcity" appears) that explores the relationship between University Research and Public Policy, in an effort to affect change in large-scale urban development via symbiotic relationships and added value to the given problem.  In addition to practice, Mr. Summers is committed to education and to pursuing conditions that allow for an open and engaging dialogue around contemporary practice and processes. Mr. Summers is an Assistant Professor of Architecture at the University of Kentucky, College of Design, where he received a Bachelor of Architecture Degree in 1996. At his Alma Mater he leads advanced studios in urban / architectural design projects and teaches electives in High Performance Building Envelopes and Design / Theory. Martin's River Cities Project / Henderson studios were featured in the Rotterdam Biennale, "Making City," where he led the design and coordination of the physical exhibition of the College of Design's work ( http://www.plus-sum.com/#!insideout/c227d ). His current studio focuses on "Town and Gown" issues looking for opportunities and latent potentials within the local environment of Lexington, Kentucky. His FA11 and SP12 studios focused on 5 cities in Northern Kentucky across the Ohio River from Cincinnati Ohio. These studios were a continuation of his work on the River Cities project at UK CoD and also part of the SUPRASTUDIO / Culture Now project run by Thom Mayne and Karen Lohrmann at UCLA ( http://www.culturenowproject.org ). The overall project looked at mid-sized American cities and how culture could be used as a instigator of urban questions and possible solutions. Mr. Summers explores concepts related to his design practice via graphic and 2d imagery. This work allows for rapid experimentation that produces more immediate results that are considered complimentary to the design thinking and iterative process carried out in the built work. The work also is a type of pressure release, where raw creative and instinctive work can be broadcast and tested. Martin Summers joined Society6 on November 28, 2012
More
Mr. Summers founded PLUS-SUM Studio in September 2012, to pursue work that would allow him ways to expand his own vision of what is possible in a collaborative practice. He has 16 years experience in a variety of project types and scales, from small interior renovations to large-scale master planning.  Martin worked for 10 years as a Senior Project Designer at Morphosis Architects. He served as project designer on projects across all scales and took on a leadership role in façade design and construction. In his last project with the office, he led the design of the atrium and exterior facades for the New Museum of Nature and Science in Dallas Texas (completed in January of 2013.) Prior to the Museum of Nature and Science, Martin led the exterior façade team working on the design and execution drawings for the Phare Tower in Paris, France. He also served as the lead project designer on the Cahill Center for Astrophysics at Caltech in Pasadena, California and as the lead project designer for the Caltrans District 7 Headquarters in Downtown Los Angeles; an entire city block across from City Hall where urban design issues drove the solution. Other award winning projects include NYC 2012 Olympic Village design and master planning; Hypo Alpe-Adria Bank, Udine Italy; the Wayne L. Morse Federal Courthouse in Eugene, Oregon; the University of Cincinnati Student Recreation Center; and the Los Angeles County Museum of Art Competition which attempted to re-stitch the existing campus into a coherent whole.  Prior to working at Morphosis, Mr. Summers participated in a diverse range of project from residential and worship spaces to sound stages for clients such as Warner Bros., Sony, and DreamWorks SKG while at HLW. He worked at several award winning offices in Kentucky and before attending graduate school. Mr. Summers received his Masters of Architecture II degree from UCLA, where he was a student of Thom Mayne, the 2005 Pritzker Prize Laureate and the founding principal of Morphosis. While at UCLA, he worked with Mr. Mayne on the publication of LA Now, Volumes 1 and 2 (in which his thesis project "UNIVERcity" appears) that explores the relationship between University Research and Public Policy, in an effort to affect change in large-scale urban development via symbiotic relationships and added value to the given problem.  In addition to practice, Mr. Summers is committed to education and to pursuing conditions that allow for an open and engaging dialogue around contemporary practice and processes. Mr. Summers is an Assistant Professor of Architecture at the University of Kentucky, College of Design, where he received a Bachelor of Architecture Degree in 1996. At his Alma Mater he leads advanced studios in urban / architectural design projects and teaches electives in High Performance Building Envelopes and Design / Theory. Martin's River Cities Project / Henderson studios were featured in the Rotterdam Biennale, "Making City," where he led the design and coordination of the physical exhibition of the College of Design's work ( http://www.plus-sum.com/#!insideout/c227d ). His current studio focuses on "Town and Gown" issues looking for opportunities and latent potentials within the local environment of Lexington, Kentucky. His FA11 and SP12 studios focused on 5 cities in Northern Kentucky across the Ohio River from Cincinnati Ohio. These studios were a continuation of his work on the River Cities project at UK CoD and also part of the SUPRASTUDIO / Culture Now project run by Thom Mayne and Karen Lohrmann at UCLA ( http://www.culturenowproject.org ). The overall project looked at mid-sized American cities and how culture could be used as a instigator of urban questions and possible solutions.
Mr. Summers explores concepts related to his design practice via graphic and 2d imagery. This work allows for rapid experimentation that produces more immediate results that are considered complimentary to the design thinking and iterative process carried out in the built work. The work also is a type of pressure release, where raw creative and instinctive work can be broadcast and tested.
Martin Summers joined Society6 on November 28, 2012.