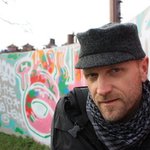 Martycultural Art Inc
Hello! I'm Martin Machacek and I've been painting spirited renditions of world landmarks and charismatic architecture since 2002. (Before that, I made my living drawing very straight lines for architects. Gotta know the rules of perspective in order to 'bend' them, right?) My originals can be found in personal and corporate collections worldwide, including North America, Europe, South Africa, Southeast Asia, and Dubai. It's a pleasure to offer high-quality reproductions of my artwork as well, and I appreciate you checking out the collection I have through Society6. All of my paintings are based on real places, and I've personally been to almost all of these places, too. (The few exceptions to this are custom paintings I've created for clients.) I use personal photographs for reference, create a free-hand sketch, and then use my sketch as a basis for an acrylic painting. There's no Photoshop, apps, or even illicit substances involved when I exaggerate the perspectives for my paintings. Painting dancing buildings comes naturally to me, and I hope that my pieces will bring you a new appreciation for the world that surrounds us. A full biography and artist statement can be seen at: http://www.martycultural.com/about-the-artist/ If you'd like to see a time-lapse video of me creating a painting from start to finish, go here: http://youtu.be/0fFrVKyVmqI If you want to see a local news feature on my inspiration and artistic background, check out this video: http://youtu.be/OrOY6kvTQfM And finally, if you'd like to connect on Facebook, you can find me at: www.facebook.com/martycultural If you have any questions, you can reach me directly at: marty@martycultural.com Martycultural Art Inc joined Society6 on June 2, 2014
More
Hello! I'm Martin Machacek and I've been painting spirited renditions of world landmarks and charismatic architecture since 2002. (Before that, I made my living drawing very straight lines for architects. Gotta know the rules of perspective in order to 'bend' them, right?)
My originals can be found in personal and corporate collections worldwide, including North America, Europe, South Africa, Southeast Asia, and Dubai. It's a pleasure to offer high-quality reproductions of my artwork as well, and I appreciate you checking out the collection I have through Society6.
All of my paintings are based on real places, and I've personally been to almost all of these places, too. (The few exceptions to this are custom paintings I've created for clients.) I use personal photographs for reference, create a free-hand sketch, and then use my sketch as a basis for an acrylic painting. There's no Photoshop, apps, or even illicit substances involved when I exaggerate the perspectives for my paintings. Painting dancing buildings comes naturally to me, and I hope that my pieces will bring you a new appreciation for the world that surrounds us.
A full biography and artist statement can be seen at: http://www.martycultural.com/about-the-artist/
If you'd like to see a time-lapse video of me creating a painting from start to finish, go here: http://youtu.be/0fFrVKyVmqI
If you want to see a local news feature on my inspiration and artistic background, check out this video: http://youtu.be/OrOY6kvTQfM
And finally, if you'd like to connect on Facebook, you can find me at: www.facebook.com/martycultural
If you have any questions, you can reach me directly at: marty@martycultural.com
Martycultural Art Inc joined Society6 on June 2, 2014.