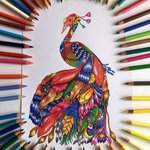 hellomartywoods
"There's something really appealing about the simplicity of black-and-white images"
Hello,
Thank you for visiting my store. I am an and coloring book author based in Kuala Lumpur, Malaysia. I enjoy drawing especially in black and white. Check out my book Exotic Kingdom - An Inspiring Coloring Book and Color The Rainforest - An Exotic Coloring Book published by Harper Collins/Harlequin. Both books are available worldwide. You can get them from Amazon, Barnes & Noble, Walmart, KMart, Kinokuniya and many more. Visit my website for more details.
Commission or collaboration please email me at marty.kreativkontentz@gmail.com. Visit me at :
Website | http://www.hellomartywoods.com Instagram | http://www.instagram.com/hellomartywoods Facebook | http://www.facebook.com/hellomartywoods Behance | http://www.behance.net/hellomartywoods Pinterest | http://www.pinterest.com/hellomartywoods Redbubble | http://www.redbubble.com/people/hellomartywoods Printcious | http://www.printcious.my/designers/martywoods Creative United | http://www.creativeunited.my/u/martywoods
Thank you.
Read more
hellomartywoods's Store
Filter