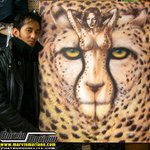 Marvisionart
Marvin has worked on high profile brands such as Transformers, GI Joe, Barbie and Star Wars. His list of clients include Hasbro, Mattel, Marvel Entertainment, DC Comics, Image Comics, Dark Horse Comics, Dreamworks LLC., 20th Century Fox, National Geographic, Lucasfilm and Lucas Licensing. Marvin's work can be seen on the popular shows: 'Transformers: Beast Machines' ,'Transformers Armada', the 'G.I. Joe: Spy Troops' movie, Season 3 of 'Doc' starring Billy Ray Cyrus, and 'Carl2' for Teletoon. Additionally he has worked on Hasbro packaging design and concept illustrations for Armada, Transtech, The Transformers Movie and Transformers/Star Wars Crossovers. Marvin is also a professional Tattoo artist for 'Phat Buddha Tattoos. With several fine locations in Ontario, Canada, he specializes in Realism, Portraits and unique custom works. You can check out the rest of his works at www.phatbuddhaelite.com and portfolio illustrations at www.marvinmariano.com Marvisionart joined Society6 on February 28, 2014
More
Marvin has worked on high profile brands such as Transformers, GI Joe, Barbie and Star Wars. His list of clients include Hasbro, Mattel, Marvel Entertainment, DC Comics, Image Comics, Dark Horse Comics, Dreamworks LLC., 20th Century Fox, National Geographic, Lucasfilm and Lucas Licensing. Marvin's work can be seen on the popular shows: 'Transformers: Beast Machines' ,'Transformers Armada', the 'G.I. Joe: Spy Troops' movie, Season 3 of 'Doc' starring Billy Ray Cyrus, and 'Carl2' for Teletoon. Additionally he has worked on Hasbro packaging design and concept illustrations for Armada, Transtech, The Transformers Movie and Transformers/Star Wars Crossovers.
Marvin is also a professional Tattoo artist for 'Phat Buddha Tattoos. With several fine locations in Ontario, Canada, he specializes in Realism, Portraits and unique custom works. You can check out the rest of his works at www.phatbuddhaelite.com and portfolio illustrations at www.marvinmariano.com
Marvisionart joined Society6 on February 28, 2014.