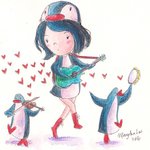 PenguinGirl Art
Once upon a sky there was a PenguinGirl, Who was quirky, curious and confused about the world. She lived with her Penguins in the clouds and open spaces, And couldn't help looking for love in lost places. MaryAnn Loo (PenguinGirl) is a fine art illustrator and painter from Singapore. Her penguins live in the sky and the clouds, and tell stories of love, adventures, and dreams coming true! www.maryannloo.com www.instagram.com/penguingirl_art www.facebook.com/maryannloo.art PenguinGirl Art joined Society6 on October 25, 2013
More
Once upon a sky there was a PenguinGirl, Who was quirky, curious and confused about the world. She lived with her Penguins in the clouds and open spaces, And couldn't help looking for love in lost places.
MaryAnn Loo (PenguinGirl) is a fine art illustrator and painter from Singapore. Her penguins live in the sky and the clouds, and tell stories of love, adventures, and dreams coming true!
www.maryannloo.com www.instagram.com/penguingirl_art www.facebook.com/maryannloo.art
PenguinGirl Art joined Society6 on October 25, 2013.