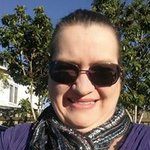 Mary Gardiner
I live in Brisbane, Queensland, Australia. Although new to the art world, I am passionate about growth, learning and using art as a healing process and self development. I will be adding more artwork soon, I need to take some photos and please come back soon and check what I have been working on. My inspiration comes from many places and artists I look up to, such as Tamara La Porte, Christy Tomlinson, Jane Davenport, among others. Mary Gardiner joined Society6 on November 29, 2014
More
I live in Brisbane, Queensland, Australia. Although new to the art world, I am passionate about growth, learning and using art as a healing process and self development.
I will be adding more artwork soon, I need to take some photos and please come back soon and check what I have been working on.
My inspiration comes from many places and artists I look up to, such as Tamara La Porte, Christy Tomlinson, Jane Davenport, among others.
Mary Gardiner joined Society6 on November 29, 2014.
Mary Gardiner's Store
46 results
Filter