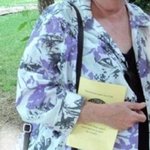 Marykay Bond
My name is Marykay Bond. I'm a self taught artist that has been painting for over 40 years. I grew up on Long Island, New York and was always inspired by the ocean and the woods. I now live in beautiful North Carolina that has stolen my heart with it's beauty. I paint things that I see and I also paint from pictures. I love painting animals as they are close to my heart. Painting Pet Portrait is my specialty. Most of my work now are miniatures paintings that range from 1" by 1" paintings for Doll Houses to 5" by 7" Portraits of family Pets. Some of my miniatures can end up a bit larger and even a bit smaller; but all have to be loved by those who receive them. I work with pencils, pens, paint pens, watercolor, acrylics and oils; due to drying time oils are a special order only. Marykay Bond joined Society6 on January 27, 2014
More
My name is Marykay Bond.
I'm a self taught artist that has been painting for over 40 years. I grew up on Long Island, New York and was always inspired by the ocean and the woods. I now live in beautiful North Carolina that has stolen my heart with it's beauty. I paint things that I see and I also paint from pictures. I love painting animals as they are close to my heart. Painting Pet Portrait is my specialty. Most of my work now are miniatures paintings that range from 1" by 1" paintings for Doll Houses to 5" by 7" Portraits of family Pets. Some of my miniatures can end up a bit larger and even a bit smaller; but all have to be loved by those who receive them. I work with pencils, pens, paint pens, watercolor, acrylics and oils; due to drying time oils are a special order only.
Marykay Bond joined Society6 on January 27, 2014.
Marykay Bond's Store
76 results
Filter