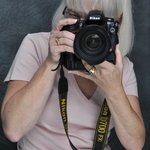 Mary Kilbreath
I am a full time artist and fine art teacher. I combine painting, photography, and graphics work, to produce one of a kind works of art. I love all kinds of subjects, usually working in a series, and apply varying techniques to achieve my goals. My creations are available as prints on paper, canvas, and Society 6 items such as iphone covers, bags, shirts, ipad skins, etc. Important Notice: While you are purchasing a piece of art, the copyright of the work does not transfer with a sale which means that in purchasing this piece of art you are not purchasing the right to print, copy, or reproduce this image in any way without the artist's permission. Mary Kilbreath joined Society6 on February 4, 2013
More
I am a full time artist and fine art teacher. I combine painting, photography, and graphics work, to produce one of a kind works of art. I love all kinds of subjects, usually working in a series, and apply varying techniques to achieve my goals. My creations are available as prints on paper, canvas, and Society 6 items such as iphone covers, bags, shirts, ipad skins, etc.
Important Notice: While you are purchasing a piece of art, the copyright of the work does not transfer with a sale which means that in purchasing this piece of art you are not purchasing the right to print, copy, or reproduce this image in any way without the artist's permission.
Mary Kilbreath joined Society6 on February 4, 2013.