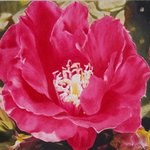 Mary McGovern
Mary McGovern is a professional artist living in Central Texas. She has enjoyed drawing since she was a little kid, and still spends all of her free time painting and drawing. Her speciality is realist style drawings and oil paintings. Artist's Statement: My goal is to show people things they never would see on their own, by using my artistic skills to collect and highlight beautiful, interesting things. Mary McGovern joined Society6 on May 31, 2014
More
Mary McGovern is a professional artist living in Central Texas. She has enjoyed drawing since she was a little kid, and still spends all of her free time painting and drawing. Her speciality is realist style drawings and oil paintings.
Artist's Statement: My goal is to show people things they never would see on their own, by using my artistic skills to collect and highlight beautiful, interesting things.
Mary McGovern joined Society6 on May 31, 2014.