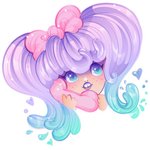 Acrylicana
The work of Mary Winkler (aka Acrylicana®) is vivid and whimsical. It's often child-like in theme, depicting sweets, fanciful creatures and rainbows as well as exploring the world of fashion and garment in illustrated form. Done in a variety of media, including digital, acrylic, watercolour and ink, Mary's work is pop art, graphic and, for lack of a better word, sparkly. Her work is painted on canvas, a variety of papers or printed by way of giclee ink jet or silk screen (usually onto fabric for pouches/bags). Mary studied Illustration at College for Creative Studies in Detroit, Michigan. Moving from the indie scene, Acrylicana® and related lines have been manufactured into a variety of products and involved in projects from fashion to toys. www.acrylicana.com @marywinklerart on twitter @acrylicana on instagram acrylicana.tumblr.com Acrylicana joined Society6 on September 13, 2013
More
The work of Mary Winkler (aka Acrylicana®) is vivid and whimsical. It's often child-like in theme, depicting sweets, fanciful creatures and rainbows as well as exploring the world of fashion and garment in illustrated form. Done in a variety of media, including digital, acrylic, watercolour and ink, Mary's work is pop art, graphic and, for lack of a better word, sparkly. Her work is painted on canvas, a variety of papers or printed by way of giclee ink jet or silk screen (usually onto fabric for pouches/bags). Mary studied Illustration at College for Creative Studies in Detroit, Michigan. Moving from the indie scene, Acrylicana® and related lines have been manufactured into a variety of products and involved in projects from fashion to toys.
www.acrylicana.com @marywinklerart on twitter @acrylicana on instagram acrylicana.tumblr.com
Acrylicana joined Society6 on September 13, 2013.