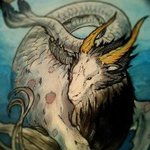 Matt Mason
Matt Mason is a visual artist living in Austin, Texas. Skilled in a variety of media, his work is a reflection on a life full of travel, keen observation and quiet introspection on the essence of spirit. Plunge into his world at www.masonography.com, From the Artist: My works on paper, paintings, ballpoint pen and pencil drawings, are more or less representations of our inner selves. Totemic animals… dressed in bone and armor, whimsical characters shining their happiness… mythological entities living their archetypal stories. As a result my work usually starts from a very quiet and serene place in my thoughts. Much of my work is extremely detailed, drawn and redrawn. It is this methodological nature to my process that calms my mind and acts as a meditative outlet to express my personal ideology. As a result I make art to better understand myself and my world. I create to bring forth consciousness, to give thought form and have those forms resonate and enlighten. The work that I often feel the strongest about is the work that stares back at me. The pieces, often animals or portraits, that take on a life of their own. Although often impossible, these beings exist to stare back. To cause us to reflect on our own nature. They are the pieces that make me feel as if I truly created a reflection of something never before seen. Art as a principle has always been a factor in my sanity, it has fueled my life and affected every major decision I have ever had to make. I believe that art has changed me for the better. If something can do that for me then it is my duty as an artist to inspire that same change in others. Every purchase you make goes toward my continued independence as an artist, allowing me the time to create new work everyday. Whether or not you buy something from my store.. My work and I thank you for your attention. Matt Mason joined Society6 on May 18, 2012
More
Matt Mason is a visual artist living in Austin, Texas. Skilled in a variety of media, his work is a reflection on a life full of travel, keen observation and quiet introspection on the essence of spirit. Plunge into his world at www.masonography.com,
From the Artist:
My works on paper, paintings, ballpoint pen and pencil drawings, are more or less representations of our inner selves. Totemic animals… dressed in bone and armor, whimsical characters shining their happiness… mythological entities living their archetypal stories. As a result my work usually starts from a very quiet and serene place in my thoughts. Much of my work is extremely detailed, drawn and redrawn. It is this methodological nature to my process that calms my mind and acts as a meditative outlet to express my personal ideology. As a result I make art to better understand myself and my world. I create to bring forth consciousness, to give thought form and have those forms resonate and enlighten.
The work that I often feel the strongest about is the work that stares back at me. The pieces, often animals or portraits, that take on a life of their own. Although often impossible, these beings exist to stare back. To cause us to reflect on our own nature. They are the pieces that make me feel as if I truly created a reflection of something never before seen.
Art as a principle has always been a factor in my sanity, it has fueled my life and affected every major decision I have ever had to make. I believe that art has changed me for the better. If something can do that for me then it is my duty as an artist to inspire that same change in others. Every purchase you make goes toward my continued independence as an artist, allowing me the time to create new work everyday. Whether or not you buy something from my store.. My work and I thank you for your attention.
Matt Mason joined Society6 on May 18, 2012.