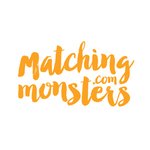 matchingmonsters
Contrary to popular belief, Monsters don't just hide under your bed. In fact, they're hiding all over the world, often in places you'd least expect. Sometimes you just need a little help seeing them.
Matching Monsters is dedicated to uncovering these mysterious creatures by matching someone up with their very own Monster each day. Simple as that!
If you'd like to put yourself up for a Monster Match, head on over to matchingmonsters.com, then make sure to follow us at our other cyber homes on Facebook, Twitter and Instagram.
"Let the wild rumpus begin!" — Max, Where the Wild Things Are
Read more