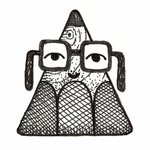 Matt Andrews
I am an artist, illustrator and doodler. I drink a lot of tea, eat a lot of biscuits, and procrastinate about art related things on a regular basis. I create pattern designs, drawings and illustrations, and quirky humorous cartoons usually involving animals, fruits and vegetables. You can check out my sticky note doodles over at https://www.instagram.com/lifeisastickynote/ Matt :) Matt Andrews joined Society6 on July 13, 2011
More
I am an artist, illustrator and doodler. I drink a lot of tea, eat a lot of biscuits, and procrastinate about art related things on a regular basis.
I create pattern designs, drawings and illustrations, and quirky humorous cartoons usually involving animals, fruits and vegetables.
You can check out my sticky note doodles over at https://www.instagram.com/lifeisastickynote/
Matt :)
Matt Andrews joined Society6 on July 13, 2011.
Boats Veg_Print Notebooks by Matt Andrews
53 results
Filter
Department

Dept

Stickers & Stationery