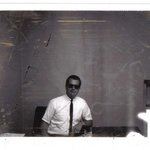 Matt Hendon
MattHendon.com is a Los Angeles based studio focused in the areas of illustration, design, and exhibition as well as other medias. The studio functions as the creative outlet for the work of Matt Hendon, however, it is made possible through the collaboration of other creative friends and individuals. Matt has a Bachelor's of Fine Art in Illustration from Art Center College of Design in Pasadena, California. Matt Hendon joined Society6 on April 5, 2010
More
MattHendon.com is a Los Angeles based studio focused in the areas of illustration, design, and exhibition as well as other medias.
The studio functions as the creative outlet for the work of Matt Hendon, however, it is made possible through the collaboration of other creative friends and individuals. Matt has a Bachelor's of Fine Art in Illustration from Art Center College of Design in Pasadena, California.
Matt Hendon joined Society6 on April 5, 2010.
Tshirts by Matt Hendon
2 result
Filter