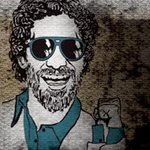 Matthew Cory
My name is Matt and my goal is awesomeness. I hope that is your aim as well.
I am a Seattle area artist who works both digitally and traditionally.
I believe everyone and every culture contributes bits of truth to the cosmic whole with their stories - be it myth or fact, the lessons and inspiration are still there. I draw on these themes and often learn something new everyday. In 2011 I have released a self-published book of my illustrations on spirituality (Many Paths) and a new children's book with an author friend of mine, Gibson Holub (www.acatnamedegg.com).
Exhibition history: Solo - Sept. 2011 - "A Cat Named Egg" 826 (Seattle, WA) Solo - June 2011 - "Many Paths" The Triple Door (Seattle, WA) Group - April–May 2011 - Art On The Ridge (Seattle, WA) Solo - Dec. 2008 - "Do Narwhals Have Blowholes?" Hiawatha Artist Gallery (Seattle, WA) Group - Sept. 2000 - "The 3/Three Matts" Studio 8 (Seattle, WA) Solo - Aug. 1995 - "Church & State" Sarah Spurgeon Gallery (Ellensburg, WA)
I've been a working graphic designer for 15 years and a lot of my efforts have gone to designing for Archie McPhee.
Thank you for taking a gander. Cheers!
Matthew Cory
Read more
Matthew Cory's Store
Filter