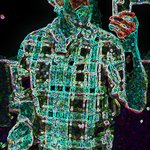 Matthew Garrett
I'm a guy that's not that different from you, with a few opinions that might stimulate conversation and maybe even make you laugh. In order to make an important transition for my health and stability, I had to undergo a complete lifestyle change that included healthy food, sleep when I need it, no artificial chemicals in my system, exercise and stretching each day, and meditation. It also required an occupation change, which is an ongoing struggle. I'm an artist on a quest to move West, and I've had my eye on Colorado for years, but still have no means to get there yet. I want to be a part of the change that's happening now, but it's not happening here, and West is where it's at. I believe the way forward for societal change first requires a lot of respectful discourse to increase understanding on the important issues of our day, to awaken the distracted and disenfranchised masses, and then it requires that everyone gets busy on an issue or two. So many people look away when they see something negative in society, which is why it doesn't change. Our individual power will manifest change only within a sufficiently large group, and only if our speech and privacy is protected while we do it, which is why our privacy is being threatened right now, and even out here on the web. The one thing power fears more than anything is a united voice against their tyranny, or an awakened public no longer distracted by their propaganda (this includes the TV in your living room). I want to be a part of that awakening, part of the changes I believe are coming in the next decade. I allow myself to dream of the power of a billion people (or even a few hundred million), riddled by the idea that they are powerless as an individual, suddenly becoming aware that their power is quite real, but exists only in the collective sense, in the distempered hoard that SHOULD have a voice. One day enough people will realize that if they could only move as one, they could become an abominable democratic force, finally rendering centralized power obsolete. That idea, that once we come together and realize we're all really the same, and there are simply too many of us for any existing force to stop us from defining the society WE THE PEOPLE want, with laws we want, opportunities we want, soon to be our world (collectively) and then on to the future! Today there are still many in power who mistakenly believe the old systems of governance will hold. The leaderless revolution has begun, whether you're currently a part of it or not. The change is happening, and I hope you'll all get involved in issues that matter to you and work to change at least one right now. These new ideas are understood by all free people across the globe, and we are becoming aware because the flow of information is no longer controlled by those in power and THAT simple fact is changing our culture and our world. As long as the internet is still neutral and a place where the users collectively determine the rules, that is. We are the value here, not the companies that think they own it. They're only here because they see ROI here. We're here because we want to connect, create, buy, and learn here. So if we are the value makers in this space, let's act like it and run our house by determining the rules of the game out here. Bragging rights Still alive. 5 concussions, recovered from addiction, rebuilt body, mind, and spirit from near death experience, belong to a very special "tribe", very glad to know that I'm not "normal" which for me doesn't even really exist. There is no "normal" we are all unique. Matthew Garrett joined Society6 on January 2, 2014
More
I'm a guy that's not that different from you, with a few opinions that might stimulate conversation and maybe even make you laugh. In order to make an important transition for my health and stability, I had to undergo a complete lifestyle change that included healthy food, sleep when I need it, no artificial chemicals in my system, exercise and stretching each day, and meditation. It also required an occupation change, which is an ongoing struggle.
I'm an artist on a quest to move West, and I've had my eye on Colorado for years, but still have no means to get there yet. I want to be a part of the change that's happening now, but it's not happening here, and West is where it's at.
I believe the way forward for societal change first requires a lot of respectful discourse to increase understanding on the important issues of our day, to awaken the distracted and disenfranchised masses, and then it requires that everyone gets busy on an issue or two. So many people look away when they see something negative in society, which is why it doesn't change. Our individual power will manifest change only within a sufficiently large group, and only if our speech and privacy is protected while we do it, which is why our privacy is being threatened right now, and even out here on the web. The one thing power fears more than anything is a united voice against their tyranny, or an awakened public no longer distracted by their propaganda (this includes the TV in your living room). I want to be a part of that awakening, part of the changes I believe are coming in the next decade.
I allow myself to dream of the power of a billion people (or even a few hundred million), riddled by the idea that they are powerless as an individual, suddenly becoming aware that their power is quite real, but exists only in the collective sense, in the distempered hoard that SHOULD have a voice. One day enough people will realize that if they could only move as one, they could become an abominable democratic force, finally rendering centralized power obsolete. That idea, that once we come together and realize we're all really the same, and there are simply too many of us for any existing force to stop us from defining the society WE THE PEOPLE want, with laws we want, opportunities we want, soon to be our world (collectively) and then on to the future!
Today there are still many in power who mistakenly believe the old systems of governance will hold. The leaderless revolution has begun, whether you're currently a part of it or not. The change is happening, and I hope you'll all get involved in issues that matter to you and work to change at least one right now. These new ideas are understood by all free people across the globe, and we are becoming aware because the flow of information is no longer controlled by those in power and THAT simple fact is changing our culture and our world. As long as the internet is still neutral and a place where the users collectively determine the rules, that is. We are the value here, not the companies that think they own it. They're only here because they see ROI here. We're here because we want to connect, create, buy, and learn here. So if we are the value makers in this space, let's act like it and run our house by determining the rules of the game out here.
Bragging rights Still alive. 5 concussions, recovered from addiction, rebuilt body, mind, and spirit from near death experience, belong to a very special "tribe", very glad to know that I'm not "normal" which for me doesn't even really exist. There is no "normal" we are all unique.
Matthew Garrett joined Society6 on January 2, 2014.