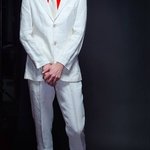 Matthew Z Kessler
Matthew Z Kessler is a costume designer, painter, fiber artist and costume craftsman. Matt also performs and produces Burlesque in Manhattan, Brooklyn, New Jersey, Ohio, Boston and Vienna. BFA University of Cincinnati College-Conservatory of Music Theater Design Production MFA University North Carolina School of the Arts TDP Boylesque 101 New York School of Burlesque Matthew Z Kessler joined Society6 on January 18, 2014
More
Matthew Z Kessler is a costume designer, painter, fiber artist and costume craftsman. Matt also performs and produces Burlesque in Manhattan, Brooklyn, New Jersey, Ohio, Boston and Vienna.
BFA University of Cincinnati College-Conservatory of Music Theater Design Production MFA University North Carolina School of the Arts TDP Boylesque 101 New York School of Burlesque
Matthew Z Kessler joined Society6 on January 18, 2014.