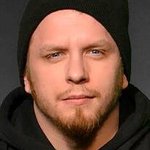 Mattias Fahlberg
My name is Mattias Fahlberg, I'm 27 years old and I live in the land of the Vikings; Sweden! All my life I have been involved with art. My father was the one who got me interested with his amazing paintings and drawings of well known figures like Conan and Hobgoblin. Sorry dad, I destroyed them trying to be like you! (Ha ha!) Ever since these early days I have been working on my own art. I started in kinder garden where our teacher asked us kids to draw stick figures... we all did but I made a whole party of them doing lots of crazy stuff. After that I went on trying to draw Teenage Mutant Ninja Turtles, since they were VERY hardcore and cool at the time. For some reason I always drew them with long necks. When I got a bit older I studied Technical Design to become a better artist, and I got to learn how to use Photoshop and create web pages. It was a fun time getting to try a lot of different ways to express my art. After school I started working to get a place of my own. I worked as a sales clerk on a local store, I worked with taking care of elderly people and currently I'm working with helping kids with special needs. My art suffered some from these years because I didn't have as much free time. It wasn't until two years ago I finally picked up Photoshop again to try to draw some. I got so jealous at other people doing incredible artwork. It started out very rough but as time progressed the pieces of the puzzle started to fall into place. I created a ton of pictures with a simple Dell mouse and I thought it was kind of nice. The change came when my girlfriend Sandra bought me a Trust tablet. I was amazed how good it was and I started to paint like a madman. The passion was once again lit! To contact me use - contact@mattiasfahlbergdesign.com My offical art blog - http://www.mattiasfahlbergdesign.com/ My studie blog - http://www.studies.mattiasfahlbergdesign.com/ Facebook - http://www.facebook.com/pages/Mattias-Fahlberg/336992052988346 Mattias Fahlberg joined Society6 on January 26, 2011
More
My name is Mattias Fahlberg, I'm 27 years old and I live in the land of the Vikings; Sweden! All my life I have been involved with art. My father was the one who got me interested with his amazing paintings and drawings of well known figures like Conan and Hobgoblin. Sorry dad, I destroyed them trying to be like you! (Ha ha!) Ever since these early days I have been working on my own art. I started in kinder garden where our teacher asked us kids to draw stick figures... we all did but I made a whole party of them doing lots of crazy stuff. After that I went on trying to draw Teenage Mutant Ninja Turtles, since they were VERY hardcore and cool at the time. For some reason I always drew them with long necks. When I got a bit older I studied Technical Design to become a better artist, and I got to learn how to use Photoshop and create web pages. It was a fun time getting to try a lot of different ways to express my art. After school I started working to get a place of my own. I worked as a sales clerk on a local store, I worked with taking care of elderly people and currently I'm working with helping kids with special needs. My art suffered some from these years because I didn't have as much free time. It wasn't until two years ago I finally picked up Photoshop again to try to draw some. I got so jealous at other people doing incredible artwork. It started out very rough but as time progressed the pieces of the puzzle started to fall into place. I created a ton of pictures with a simple Dell mouse and I thought it was kind of nice. The change came when my girlfriend Sandra bought me a Trust tablet. I was amazed how good it was and I started to paint like a madman. The passion was once again lit!
To contact me use - contact@mattiasfahlbergdesign.com
My offical art blog - http://www.mattiasfahlbergdesign.com/
My studie blog - http://www.studies.mattiasfahlbergdesign.com/
Facebook - http://www.facebook.com/pages/Mattias-Fahlberg/336992052988346
Mattias Fahlberg joined Society6 on January 26, 2011.
Mer Man by Mattias Fahlberg
7 results
Filter