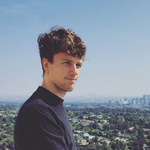 Matt Layzell
Welcome to my Society6 page! I'm an Animator/ Illustrator living in the vast city of Los Angeles, having originally hailed from the U.K.
Currently I work at Nickelodeon as a Supervising Director on a new up and coming show. My work combines a love of cartoons and animation with an interest in Fashion and japanese design to produce drawings everyone can enjoy.
See more of my work on IG - m_layzell and layzellbros.com
Thanks for reading!
Read more
Matt Layzell's Store
41 results
Filter