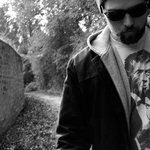 Matt Scott
Matt grew up in the far rural outskirts of Sydney, where school holidays meant traveling the east coast of Australia in interstate trucks with his dad and grandfather. The unique designs and artwork that adorns these trucks would eventually heavily influence and be reflected in his future work. Matt graduated from UWS (University of Western Sydney) with a BA in Design Studies (Illustration). He then moved into the exhibition, signage and installation industry, which has allowed him to explore and develop a technique that takes stencil art to another level. His unique style of stencils are precise in execution and rich in graphic texture. Each artwork consist of multiple layers of paint, some so far, having up to 20 layers. As his stencils are not street friendly, he likes to paint the cities with his western themed animals and patterning, a re-occuuring theme in his works. www.kamionink.com Matt Scott joined Society6 on October 20, 2013
More
Matt grew up in the far rural outskirts of Sydney, where school holidays meant traveling the east coast of Australia in interstate trucks with his dad and grandfather. The unique designs and artwork that adorns these trucks would eventually heavily influence and be reflected in his future work.
Matt graduated from UWS (University of Western Sydney) with a BA in Design Studies (Illustration). He then moved into the exhibition, signage and installation industry, which has allowed him to explore and develop a technique that takes stencil art to another level.
His unique style of stencils are precise in execution and rich in graphic texture. Each artwork consist of multiple layers of paint, some so far, having up to 20 layers. As his stencils are not street friendly, he likes to paint the cities with his western themed animals and patterning, a re-occuuring theme in his works.
www.kamionink.com
Matt Scott joined Society6 on October 20, 2013.
Matt Scott's Store
20 results
Filter