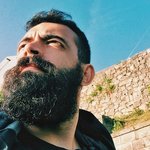 Mauricio Santana
May 2016 marks nice years of Mauricio Santana, better known as Tux, as a photographer.
He began self-taught sharing his passion for photography with a job that could pay the bills. Today, as a professional photographer, he uses all his free time available to study, research and increase his portfolio. Besides shooting bands (his specialty) in promo pictures or on stage, he is also improving his clicks on other areas.
In a world which says that nothing else can be invented, he can print, with great personality, his ideas and he's already identified by his so particular point of view through the camera.
http://www.mauriciosantana.com.br http://www.instagram.com/mauriciosantana http://www.facebook.com/mauriciosantanaphoto
Read more
Mauricio Santana's Store
Filter